Falling in love with uncomfortzoning
Are you dealing with a challenge at work that requires you to rethink the way you and your teams are currently working?
Do you feel your team's full buy-in and engagement is necessary to successfully master this challenge?
Where there is change and uncertainty, there is 'uncomfortzoning.' Where there is 'conscious uncomfortzoning', there are opportunities for growth.
I design transformation journeys using a mixture of carefully curated techniques that help accelerating transformation through the emotional commitment of the people involved. People are better able to understand their role in the process of transformation, how they really can be in relation with themselves and others, and what it takes to overcome the fear of change as well as how to use the situation as an opportunity for personal growth.
Each and every challenge is unique so all of my solutions are tailored to my clients' personal requirements. Let's take on your challenge together.
What are the next steps?
Getting to know each other & clarification of the request
Detailed exploration of the challenge and requested outcome
Proposal of approach and pricing
Interactive realization: Co-creation of detailed design, execution, feedback & evaluation, design adjustment
Measurement of sustainability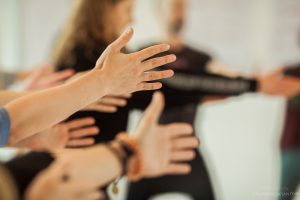 Kathrin has the capacity to combine effective facilitation on core strategy discussion with a deep understanding that the collective process of thinking, deliberating and finding solutions is crucially dependent on making space for a broader, holistic perspective on each team member as a person; with that, she helped to move group dynamics and team performance to a new level.
Having worked with Kathrin on a variety of strategy workshops for our management team, I was impressed by her acute awareness of evolving group dynamics, and appreciated the responsive and flexible manner in which she is able to adapt her approach to match specific client demands, all of which is helped by her warm-hearted, welcoming and balanced personality.